Robert Wanek
nwoalert.com
September 16th, 2009
In September, 2001, John Citara was teacher of disabled children and a construction worker who helped amid the Ground Zero chaos, including search and rescue. Like other volunteers, he wore a white cloth mask designed to protect him from household dust, but not against toxic chemicals burning in the ruins. Since then, he's been coughing up blood, vomiting foreign particles, and living in constant pain.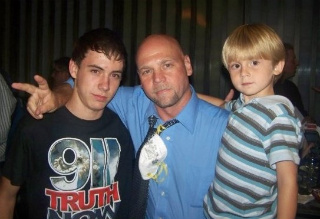 Unable to work or obtain adequate healthcare, this single father of a toddler struggles to get a diagnosis and treatment that will save his life. He along with thousands of others rushed to ground zero amid the carnage after viewing the news of the attack on television.
I met John last weekend at the 2009 Real Change Conference in Manhattan, NYC. He had flown all the way to NY from Florida with his 4 and-a-half year old son Shane, to speak at an event along with Daniel Sunjata, myself, other First Responders and many others.
John described how he used to be forced into eating from garbage cans in order to support his son and provide him good healthy food. John simply didn't have the money for his medications and to support his family, his usual monthly cost for medication and health expense's is roughly 1300 to 1400 dollars, his insurance dropped him. Due to the toxins in the air at ground zero he is now in need of Oral surgery as the effects are weighing on his gums. He is also seeing medical professionals, attempting to make his bones and respiratory system healthier. Some have agreed to treat him for free, cutting his expenses down somewhat, which is a big victory.
Shane is John's young son, a very bright and understanding kid from what I saw at Slate in Chelsea. He willingly came to the event and supported his father never becoming agitated and as a 4 year old this is incredible. You have to feel for Shane knowing that his father is dealing with lung diseases and other problems, John stated that he explains his lung problems to Shane as having a 'Boogey Nose.' One doctor recently donated antibiotics to John which is very appreciated because without them if john got bacteria in his gums during an biopsy and became sick he could die of heart failure, as his heart is very weak as a consequence from the EPA's numerous lies about air quality.
Along with all the other doctors he is scheduled to see a lung doctor. At the event in NY John was given a few $10, $20, and other amount donations from the crowd which he is very grateful. It allows him to put more food on the shelf and allow for him to support Shane. I am now creating a chip-in for John and if your reading this you can donate $5 or $10 dollars to someone who needs it much much more than yourself. All the proceeds will go to John Citara in his quest to battle for his life and health, while his son patiently waits for him to get better.
Send this story to every news site imaginable over and over again until they acknowledge and post it, send it to your congressmen/women and senators, the truth shall prevail, John shall be noticed and honored as a national hero.
---
More Articles by We Are Change Minnesota
More: Featured Articles, MnChange Articles, Interviews and Videos