Brian Peterson
We Are Change Minnesota
May 31, 2008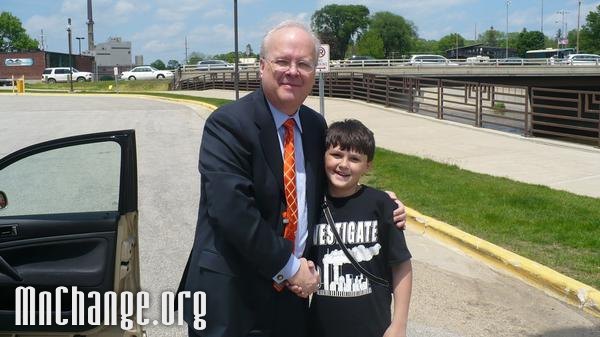 Karl Rove showing his support for the 9/11 truth movement in Rochester Minnesota today shortly after the Minnesota Republican Convention. Rove was leaving the event and saw a young man with a T-shirt that reads "Investigate 9/11" stopping the driver of the car he got out to take a picture with the young man. Although it is not known when Rove changed his stance on the truth movement it is exciting to see a high ranking official coming around to the truth after all these years.
Protesters at Republican State Convention:

(KAAL) — It's day three of the Republican State Convention in Rochester and today they welcomed a big name.
Karl Rove made an appearance at the Mayo Civic Center to rally support for the upcoming elections but several people lined up outside to protest.
In an effort to boost votes for the Republican Party, former White House Deputy Chief of Staff Karl Rove made an appearance at the State Convention in Rochester.
"This election is not going to be won by John McCain or Norm Coleman. They've got big roles to play, don't get me wrong, they've got to do terrible things…they've got to go raise money and make endless speeches," said Rove.
Full Article here
---
More Articles by We Are Change Minnesota
More: Featured Articles, MnChange Articles, Interviews and Videos