---
http://RestoreTheRepublic.com
STOP HR 645 – A rather scary piece of legislation has been introduced in the House of Representatives entitled HR 645. Also known as the National Emergency Centers …
---
The Information presented in this film is crucial to the understanding of where humankind is heading, how it's going to get there, and the knowledge to prevent it…… ……….I am making this material available in efforts to advance understanding of environmental, political, human rights, economic, democracy, scientific, and social justice issues, etc. I believe this constitutes a "fair use" of any such copyrighted material as provided for in section 107 of the US Copyright Law. In accordance with Title 17 U.S.C. Section 107, the material on this site is distributed without profit to those who have expressed a prior interest in receiving the included information for research and educational purposes.
---
April 19, 2009
by Henry Makow and Richard Evans
http://www.henrymakow.com/test.html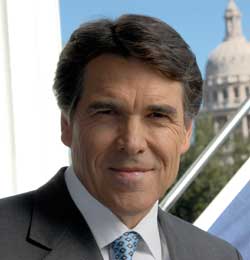 (Texas Governor, Rick Perry)
Secession has been a verboten issue in the United States since the end of the Civil War. Any group who've brought it up have been targeted by press and government as 'militant fringe groups" All of a sudden in 2009, we're seeing it endorsed by career politicians in several states simultaneously, and the media is giving them good press.
Last week, Rick Perry, Texas Governor since George W. Bush's departure in 2000, raised secession of Texas from the Federal Union at a Ron Paul type 'Tea Party" to protest Federal spending and the tax burden on the little guy.
Clearly the Illuminati intend to harness and divert popular discontent to advance their own secret agenda, i.e. the melding of the USA into their world government. Many people think the tea party movement in general exhibits a suspicious amount of organization and media acceptance. (Contrast Fox TV's coverage of this with "9-11 Truth.")
Perry later told the Star-Telegram that he "never specifically said that Texas should consider trying to secede." Technically he's correct. He got cheers telling the Tea Party rabble that the Republic of Texas legislature left a provision in the 1845 agreement to cede with the US Federal government.
But Perry is no populist. In May 2007, Dallas Morning News reported, "Gov. Rick Perry is flying to Istanbul, Turkey, today to speak at the super-secret Bilderberg Conference, a meeting of about 130 international leaders in business, media and politics." All the Governor's press secretary had to say was, "He's looking forward to learning the secret handshake." And, "It's their conference, and I suppose they can run it anyway they want." Perry's expenses were officially paid by the PAC group 'Texans for Rick Perry'.
Although he's never cared what the voters want, Perry intends to run for an unprecedented third term for Governor in 2010
Perry's gubernatorial resume includes supporting 'Open Borders'; proponent of the $145 billion+ Trans-Texas (NAFTA) Highway to the dismay and anger of central Texas residents who have never been consulted on whether they want or need it. (Thousands of square miles of land has been seized by the State of Texas under eminent domain for this project in Central Texas from the Mexican border just west of San Antonio, Austin, and and Dallas and North Texas.) Perry helped set it up so the project is being built by the Spanish contractor Cinta, and paid for by new toll highways all over the State.
Perry further alienated Texas parents and Legislators by attempting to override a "No" decision on mandatory vaccination of 11-year-old girls with an vaccine for an STD, venereal & warts (the $350 a pop "slut shot.") Perry invoked Executive Order in Feb 2007, but families filed class action suit and many financial connections between Perry and big pharma corporation Merck came out. Perry backed down but a new bill has been introduced that will make Gardasil mandatory as an admission requirement for all primary and secondary schools."
THE REAL SECESSIONISTS
The real secessionist movement were arrested, one killed in 1997. Old school Texans will remember there was a genuine grass roots secessionist movement during the 70's through the 90's. They called themselves the Republic of Texas. During the 80's one couldn't miss seeing thousands of 'SECEDE!' bumper stickers in Houston and Austin traffic. Few people took the Secessionists seriously, but the Federal and Texas governments did. Secessionist movement leaders were hunted down and arrested or killed in West Texas in 1997.
The story made the New York Times and CNN, referring to them as 'militant secession group' and 'fringe group'. The group, led by Richard McLaren, stated historical fact that the original Republic of Texas legislature had never ratified Texas becoming a territory or State of the United States. The Republic of Texas was chartered as a sovereign nation recognized by the United States government at the time.
All the Republic of Texas members had been calling for was an official state wide public referendum so citizens could decide whether they wanted to remain under Federal government or reclaim Republic status.
One secessionist was killed in the Davis Mountains by Texas State Police helicopter snipers. No other witnesses. How is it that Governor Rick Perry is getting full media support using the same arguments as did a 'militant fringe group' ?
MEANWHILE IN TRINIDAD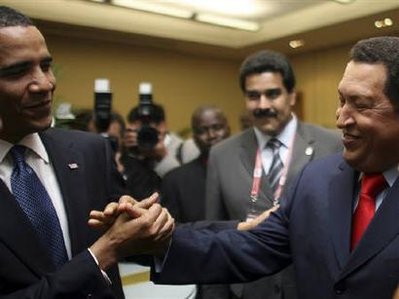 The melding of the United States into the world government continues apace at the Latin American Summit. Obama is offering Cuba a "new beginning" and exchanging Masonic handshakes with Chavez of Venezuela. He is telling them that the US is no longer a senior partner but an equal in the hemisphere.
None of this should be a surprise. Obama, Chavez and Castro are all Freemasons and Communists, and the New World Order is Masonic and Communist. Insider Christian Rakovsky said the purpose of Freemasonry is to bring about Communism.
The Agenda will advance without a glitch as long as the Illuminati can continue to pretend to represent their own opposition.
——-
Thanks to David Q for suggesting this story.
Related-my How They Control the World
and Don Cooper – Tea Parties Are You Kidding Me?
---
---
---
---
Jim Hoffman
911 Research
April 9th, 2009
Scientists Discover Both Residues And Unignited Fragments Of Nano-Engineered Thermitic Pyrotechnics In Debris From the Twin Towers.
The scientific paper Active Thermitic Material Discovered in Dust from the 9/11 World Trade Center Catastrophe conclusively shows the presence of unignited aluminothermic explosives in dust samples from the Twin Towers, whose chemical signature matches previously documented aluminothermic residues found in the same dust samples.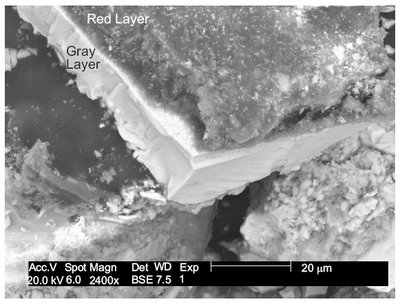 The present review of the paper and related research is intended to summarize those findings for the non-technical reader. To that end, I first provide a short introduction to the subject of aluminothermic explosives, then outline the methods and results of analysis of the dust samples, and finally explore the significance of these findings.
Traces of explosives in 9/11 dust, scientists say
Elaine Jarvik
Deseret News
April 6th, 2009
Tiny red and gray chips found in the dust from the collapse of the World Trade Center contain highly explosive materials — proof, according to a former BYU professor, that 9/11 is still a sinister mystery.
Physicist Steven E. Jones, who retired from Brigham Young University in 2006 after the school recoiled from the controversy surrounding his 9/11 theories, is one of nine authors on a paper published last week in the online, peer-reviewed Open Chemical Physics Journal. Also listed as authors are BYU physics professor Jeffrey Farrer and a professor of nanochemistry at the University of Copenhagen in Denmark.
For several years, Jones has theorized that pre-positioned explosives, not fires from jet fuel, caused the rapid, symmetrical collapse of the two World Trade Center buildings, plus the collapse of a third building, WTC-7.
The newest research, according to the journal authors, shows that dust from the collapsing towers contained a "nano-thermite" material that is highly explosive. Although the article draws no conclusions about the source and purpose of the explosives, Jones has previously supported a theory that the collapse of the WTC towers was part of a government conspiracy to ignore warnings about the 9/11 terrorists so that the attack would propel America to wage war against Afghanistan and Iraq.
he next step, Jones said in a phone interview on Monday, is for someone to investigate "who made the stuff and why it was there."
A layer of dust lay over parts of Manhattan immediately following the collapse of the towers, and it was samples of this dust that Jones and fellow researchers requested in a 2006 paper, hoping to determine "the whole truth of the events of that day." They eventually tested four samples they received from New Yorkers.
One sample was from a man who had swept up a handful of dust on the Brooklyn Bridge, where he was walking when the second tower fell. As the journal authors note, "It was, therefore, definitely not contaminated by the steel-cutting or clean-up operations at Ground Zero, which began later. Furthermore, it is not mixed with dust from WTC-7, which fell hours later."
Another man collected dust in his apartment, about five blocks from the World Trade Center, on the morning of Sept. 12. There was a layer about an inch thick on a stack of folded laundry near an open window.
Red/gray chips, averaging in size between .2 and 3 mm, were found in all four dust samples. The chips were then analyzed using scanning electron microscopy and other high-tech tools.
The red layer of the chips, according to the researchers, contains a "highly energetic" form of thermite. While normal thermite (a mixture of finely granulated aluminum and an oxide of metal) can be incendiary, "super thermite" is explosive. He says there is no benign explanation for the thermite in the WTC dust.
Jones made headlines in 2005 when he argued that the rapid and symmetrical fall of the World Trade Center looked like the result of pre-positioned explosives. He argued that fires alone wouldn't have been hot enough to crumble the buildings; and that even if struck by planes, the towers should have been strong enough to support the weight of the tops as they crumbled — unless they were leveled by explosives.
Essentially forced to retire, Jones says he is now paying for research out of his own pocket. He likens himself to Galileo and Newton, who stood by their consciences. "I would like to think I could stand up for the truth," he says.
The dust study vindicates his earlier theories, Jones says, but he has mixed feelings about the implications. "As a young student said to me a while back: 'It's exciting from a scientific point of view, because things are now making sense. But I feel sad for my country.' "
Wake Up and Smell the Aluminothermic Nanocomposite Explosives
As Documentation of Thermitic Materials
in the WTC Twin Towers Grows, Official Story Backers Ignore, Deny, Evade, and Dissemble
Jim Hoffman
911 Research
April 3rd, 2009
Introduction
The obliteration of the Twin Towers was the centerpiece of the event that launched the 'War on Terror'. Shocking on multiple levels, the events were especially traumatic for Americans, being the first bombing on the US mainland in modern history that killed thousands of people — civilians — in one day. Given the collective psychological trauma of the attack, it is not surprising that public discourse would remain free of observations that the destruction of the Twin Towers bore obvious features of controlled demolitions. Early candid public remarks by reporters and demolition experts where quickly retracted or forgotten. Passage of the USA PATRIOT Act and the invasion of Afghanistan would proceed apace.
By 2003 the United States had occupations of two countries, and an international reputation as a rogue state all resting on a shaky-at-best collapse theory whose principal alternative hypothesis — controlled demolition with pre-planted pyrotechnics — had not even been tested by the straightforward forensic analysis of debris for residues of such materials.
By early 2009, the residue testing that NIST refused to do had been done by independent researchers, and reported on in a peer-reviewed chemistry journal. Small bi-layered chips, found consistently in dust samples, have layers of red nano-engineered material that is clearly aluminothermic: it has sub-micron-diameter particles of largely of elemental aluminum, and smaller crystalline grains of primarily Fe2O3. On ignition, the chips produce temperatures above the melting point of iron, leaving tiny iron droplets matching the residues of commercial thermite pyrotechnics.
The publication of these results should be astounding to anyone who uncritically accepted the collapse explanations in TV documentaries and never looked seriously at any of the several bodies of evidence for controlled demolition.
The NIST investigation, having posted its Final Report with its absurd Building 7 joint-breaking-thermal-expansion theory in late 2008 and FAQ by Christmas, closed its doors before the independent researchers published their findings of active aluminothermic materials in WTC dust in a mainstream scientific journal; but not before they publicized findings of aluminothermic residues in the same dust samples; and not before they extracted from NIST a series of public statements, in press conferences and in written responses to requests for correction (RFCs), about the conduct of their inquiry into the cause of the skyscrapers' total destruction.
As a result, NIST spokespersons are on the record saying they did not test for pyrotechnics, and offering rationales for failing to perform such tests. Those rationale — or rationalizations — summarized toward the end of this essay, include the assertion that testing for pyrotechnics "would not necessarily have been conclusive". That is partially true: failing to find pyrotechnic residues wouldn't rule out demolition, since demolition might have been implemented using an untraceable fuel such as hydrogen gas. But finding abundant and distributed pyrotechnic explosive residues would conclusively favor demolition — particularly given the persuasive deductive arguments showing that the features of the buildings' destruction are incompatable with a purely gravity-driven collapse.
The following timeline is narrowly focused on the emergence of public evidence indicating the use of aluminothermic pyrotechnics, ranging from incendiaries to high-explosives, in the destruction of the Twin Towers and Building 7, and on the way official bodies — particular NIST — treated that evidence.
Visibility 9/11 Interviews with Steven Jones and Kevin Ryan
---
5 links about the New World Order from the main stream media.
TIME and Yahoo News: "Barack Obama's New World Order"
http://news.yahoo.com/s/time/08599188951200
Democratic Majority Leader quotes George HW Bush's 1991 Speech about a "New World Order"
http://snardfarker.ning.com/profiles/blogs/democrat-rep-hoyer-quotes
Gordon Brown again declares a "New World Order"
http://snardfarker.ning.com/video/g20-conspiracy-theorist-gordon
United Nations Executive Council: A New World Order!
http://www.theunitednationsexecutivecouncil.org/index.html
Finnancial Times article titled LITERALLY: "The First Bricks in a New World Order"
http://www.ft.com/cms/s/0/20ac6c32-1fb3-11de-a1df-00144feabdc0.html?nclick_check=1
---
Elinoff Entertainment, LLC – http://www.CoreOfCorruption.com

Core of Corruption is a documentary film series which details a comprehensive investigation into clandestine intelligence operations and conspiracies. The project is surfacing exclusive whistle blowers, insiders and critical evidence for the very first time. Over 2,000 hours of credible network news clips have been surfaced for this ground breaking event, most of which have never been seen since they aired and have never been available on the internet. Some of the video news segments for this project, when requested from the networks, were denied access to and corporate representatives would say that the information sought does not exist or has been misplaced. Someone doesn't want the public to see these stories, that when put together, establish a conspiracy of the magnitude that could change the way one views the world. Countless millions of people are being manipulated and lied to by a network of individuals within government that work on behalf of private interests. The individuals were involved in the terrorist attacks of September 11th. Many of those same figures are are connected to historical events that have shaped our understanding of government crime. For instance, the Iran Contra affair involved many figures that showed up in the 9/11 attacks
---
Published February 8, 2009
Speaker: James L. Jones
www.cfr.org
U.S. National Security Adviser Jones gave these remarks at the 45th Munich Conference on Security Policy at the Hotel Bayerischer Hof on February 8, 2009.
"Thank you for that wonderful tribute to Henry Kissinger yesterday. Congratulations. As the most recent National Security Advisor of the United States, I take my daily orders from Dr. Kissinger, filtered down through Generaal Brent Scowcroft and Sandy Berger, who is also here. We have a chain of command in the National Security Council that exists today.
I think my role today is a little bit different than you might expect. Following the speech of the Vice President and the presence of our distinguished members from the U.S. House of Representatives, I thought that I would spend my time talking to you about how taking the President's guidance and the Vice President's comments yesterday, I would spend a few moments trying to discuss how the U.S. National Security Council intends to reorganize itself in order to be supportive. For decades, this conference in Munich has provided a truly exceptional forum for the kind of open dialogue and candid discussions that can only take place among close friends and allies. The Vice President's attendance and his speech yesterday should send I think a very strong and sincere signal about the seriousness of our purpose when it comes to listening, engaging and building stronger partnerships with all of our friends and allies because the President feels that the transatlantic alliance is a cornerstone to our collective security.
As many of you know, I have been here coming to this conference since 1980 and I have been privileged to work and know many of you here. I would like to salute my military colleagues with whom I have not only a deep friendship but shared many of the issues that we are discussing in a positive way today. And I am delighted to be back in an altered state, so to speak.
I know there is great curiosity about President Obama among many here. And there has been wonderful enthusiasm and new energy with regard to his election from people all over the world. I would like to take just a moment to speak to you about his approach to national security and in fact international security and the role that I see the National Security Council playing. First and foremost the President's strategic approach will be grounded in the real understanding of the challenges we face in the 21st century. We must simply better understand the environment that we are in. The President, if nothing else, is a pragmatist. He knows that we must deal with the world as it is. And he knows that the world is a very different place than it was just a few years ago. As he said in his inaugural address, the world has changed and we must change with it. And we certainly agree that the world is a multipolar place in the time frame of the moments we are in.
It is hard to overstate the differences between the 20th and the 21st centuries. We have already experienced many, many differences in the 21st century. When this conference first met, everything was viewed through the prism of the Cold War. And in retrospect, life was simpler then. It was certainly more organized. It was certainly more symmetric.
Year in and year out, the strategic environment was fairly consistent and predictable. Threats were "conventional." The transatlantic security partnership was largely designed to meet the threats of a very symmetric world. It was reactive. The NATO partnership was conceived to be a defensive and fairly static alliance. And I spent a good deal of my career in uniform serving within this framework. But to move forward, we must understand the terms national security and international security are no longer limited to the ministries of defense and foreign ministries; in fact, it encompasses the economic aspects of our societies. It encompasses energy. It encompasses new threats, asymmetric threats involving proliferation, involving the illegal shipment of arms and narco-terrorism, and the like. Borders are no longer recognized and the simultaneity of the threats that face us are occurring at a more rapid pace.
And as the President has detailed, a comprehensive approach to our national security and international security in the 21st century must identify and understand that the wider array of existing threats that threaten us. To name a few:
-Terror and extremism has taken many lives and on many continents across the globe.
-The ongoing struggle in Afghanistan and the activity along the Pakistani border is an international security challenge of the highest order.
- The spread of nuclear and chemical biological and cyber-technologies that could upset the global order and cause catastrophe on an unimaginable scale is real. It is pressing and it is time that we dealt with it.
- The overdependence on fossil fuels that endangers our security, our economies, and the health of the planet.
- Protracted tribal, ethnic, and religious conflicts.
- Poverty, corruption, and disease stands in the way of progress and causes great suffering in many parts of the world.
- Narco-terrorism that provides the economic fuel for insurgencies.
- And an economic crisis that serves as the foundation of our strength.
This list is by no means exhaustive. The challenges that we face are broader and more diverse than we ever imagined, even after the terrible events of 9/11. And our capacity to meet these challenges in my view does not yet match the urgency of what is required. To be blunt, the institutions and approaches that we forged together through the 20th century are still adjusting to meet the realities of the 21st century. And the world has definitely changed, but we have not changed with it. But it is not too late, and this is the good news.
In our country, one of the institutions that is changing is the National Security Council, which like so much of our national and international security architecture was formed in the wake of World War II and during the Cold War. So let me say a few words about what the National Security Council does and how President Obama has asked that I approach my job as National Security Adviser. The President has made clear that to succeed against 21st century challenges, the United States must use, balance, and integrate all elements of national influence: our military and our diplomacy, our economy and our intelligence, and law enforcement capacity, our cultural outreach, and as was mentioned yesterday, the power of our moral example, in short, our values. Given this role, the NSC is by definition at the nexus of that effort. It integrates on a strategic sense all elements of our national security community towards the development of effective policy development and interagency cooperation. But to better carry out the president's priorities, the National Security Council must respond to the world the way it is and not as we wish it were. And it must consider the fusion of our national priorities within the broader international context and interest. The NSC's mission is relatively simple. It should perform the functions that it alone can perform and serve as a strategic center – and the word strategic is operative here – for the President's priorities.
To achieve those goals we will be guided by several principles. As one of our great comedians in the United States, Groucho Marx, once said, "These are our principles. And if you don't like them, we have others."
First, the NSC must be strategic, as I mentioned. It is easy to get bogged down in the tactical concerns that consume the day-to-day conduct. As a matter of fact, it is much more enjoyable to be involved at the tactical level. But we won't effectively advance the priorities if we spend our time reacting to events, instead of shaping them. And that requires strategic thinking. The National Security Council I think is unique in its ability to step back and take a longer and wider view of our American national security and our role in the shared context of our international security as well.
Second, the NSC must manage coordination across different agencies of the government – increasing numbers of agencies. We have learned the hard way that this has real implications, both in terms of how policy has developed in Washington and how it is in fact executed. The NSC must therefore function as a strategic integrator by doing several things. One, by ensuring that dissenting views are heard and considered throughout the policy-making process. Two, by monitoring policy implementation to ensure that agencies are coordinating effectively in the field, and that the President's priorities are being carried out in practice. Third, the NSC must be transparent. We serve the President. We also serve other principal agencies of our government. And that's why I am committed to managing a process that is as open as possible so that we forge policies that are widely understood throughout our government by our people and by our partners around the world. Fourth, the National Security Council must be agile. We face nimble adversaries and all of us will have to confront fast-moving crises – from conflict and terrorism to new diseases and environmental disasters. To keep pace, we will have to move faster in developing policy and priorities than did our predecessors. The world is a smaller place. Communications is more rapid. And therefore our reactions must be swifter. And we must be able to communicate rapidly throughout the government and around the world in order to effectively respond.
And finally, the National Security Council must adapt to evolving challenges. There are traditional priorities that we will manage. But we must also update our outlook and sometimes our organization to keep pace with the changing world. To give you just a few examples, the NSC today works very closely with President Obama's National Economic Council, which is led by Mr. Larry Summers, so that our response to the economic crisis is coordinated with our global partners and our national security needs. The NSC has worked closely with the White House Counsel's office as we implement the President's orders to ban torture and close the detention center at Guantanamo Bay. The National Security Council is undertaking a review to determine how best to unify our efforts to combat terrorism around the world while protecting our homeland. And this effort will be led by Mr. John Brennan.
The National Security Council will be at the table as our government forges a new approach to energy security and climate change that demand broad cooperation across the U.S. Government and more persistent American leadership around the world. And the NSC is evaluating how to update our capacity to combat the proliferation of weapons of mass destruction while also placing a far higher priority on cyber security.
There is no fixed model that can capture the world in all of its complexity. What's right today will have to be different four years from now or eight years from now. And that's precisely the point. The NSC's comparatively small size gives it a unique capacity to reinvent itself as required and to pivot on the key priorities of our time.
Just as we change our ways at home, so too must we change our international partnerships in order to adapt to the 21st century. Minister Jung just pointed out some very good examples of how NATO could change. If there is one overriding characteristic to the world we face, it is the truth that security is shared. And as President Obama has said time and again, we are strongest when we act alongside our partners.
I know there will be much discussion over the next few months as to the future of NATO, so I am not going to dwell on the topic, although I am passionate about it. I do know that the President looks forward to addressing the future of the alliance at the 60th anniversary summit in April. I have been a fan and a participant in NATO since I was a child, watching NATO during the Cold War as I was growing up and as a military commander, watching NATO troops patrol the streets of Kabul and elsewhere in Afghanistan and the Balkans and the skies and in the Mediterranean. And I can tell you this. NATO is as relevant to our common security in the first half of the 21st century as it was to our common defense in the second half of the 20th century. We know that NATO is a strong alliance, perhaps the strongest the world has ever known. Its capacity does not just come from the strength of its arms but from the enduring democratic values that bind our nations together. And from the iron-clad commitment that ensures our collective security. But I also know this. NATO must also change. It needs to become less reactive and more proactive. I think it needs to become less rigid and more flexible. It needs to become less stationary and more expeditionary. And it needs to become more, not less, essential to our collective security. Our Secretary-General has been a strong voice for developing a new strategic vision for the alliance; and judging from this conference, this has been one of the finest conferences I have attended in Munich; and judging from this conference, the time has come to do so.
There is no doubt that NATO's involvement in Afghanistan poses an enormous task for NATO, but not just NATO, for indeed all international institutions located on the ground in an effort to bring this to a happy and satisfactory conclusion. Given the nexus of terror and extremism, drugs and proliferation, we cannot afford failure in Afghanistan. And that's why the Obama Administration will work closely with NATO and with the Afghan and Pakistani Governments to forge a new comprehensive strategy to meet achievable goals. This will be a shared effort with our allies. Afghanistan is not simply an American problem, it is an international problem. And as we work to meet these short-term tests, we must show the same strategic vision that mark NATO's founding six decades ago. Our predecessors had the vision to build institutions that were durable, that could meet the challenges of the day while adapting over the course of several decades. Now the world has changed, and history has called on us to change once more – and this, we must do. President Obama is committed to pursuing a national security strategy that is fully responsive to the challenges that we face. That means facing down current threats, while forging the lasting structures and capabilities that will protect our people and advance our interests well into the future. As part of that effort, we will take steps that I have outlined to be stronger at home and we will seek stronger partnerships with our friends abroad. Those partnerships will require continuous and rapid consultation. As part of that consultation, the Obama Administration will listen closely, be clear about what we are doing, and work hard to find common ground and develop common capabilities. I have no doubt that we are at another crossroads in history. Together we have fought wars and torn down walls of division and together I know that we can meet the challenges of this moment in history if we have the courage and the commitment to change with the times.
Thank you very much."
Essential Documents are vital primary sources underpinning the foreign policy debate.
Speech
* Remarks by National Security Adviser Jones at 45th Munich Conference on Security Policy
---
The Obama Deception is a hard-hitting film that completely destroys the myth that Barack Obama is working for the best interests of the American people. The Obama phenomenon is a hoax carefully crafted by the captains of the New World Order. He is being pushed as savior in an attempt to con the American people into accepting global slavery. We have reached a critical juncture in the New World Order's plans. It's not about Left or Right: it's about a One World Government. The international banks plan to loot the people of the United States and turn them into slaves on a Global Plantation.
Available now at www.InfoWars.com
In anticipation of the official release of THE OBAMA DECEPTION— now available for high-quality download and streaming at PRISONPLANET.TV— director Alex Jones reaches out to Obama supporters everywhere, to let them where he stands.
---