Nate Clark
We Are Change Minnesota
May 19th, 2010
This March, Lagunitas Brewing Company of Petaluma, California released a craft beer to commemorate their effort to weather the latest economic downturn with what they cynically describe as, "A malty, robust, jobless recovery ale."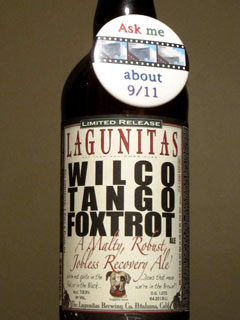 One of this year's seasonal brews, Wilco Tango Foxtrot is an imperial brown ale that not only offers an apt portrayal of the ridiculousness of the confused situation in which we find ourselves but also boasts a respectable 96th percentile rank on RateBeer.
Beginning with, "the curious per curiam decision of 531 U.S. 98," (the Supreme Court's decision in the case of Bush v. Gore which ended the Florida recount process—affording Bush the presidency), the caption on the sarcastically labeled bottle goes on to list World Trade Center Building 7 ("WTC7"), the massacre at the New Orleans Superdome, the Lehman Brothers sacrifice in the latest round of economic terrorism, the hypocrisy of awarding the Nobel Peace Prize to the Afghani-surge president and the fact that the concept of "jobless recovery" is oxymoronic as examples of issues worthy of consideration.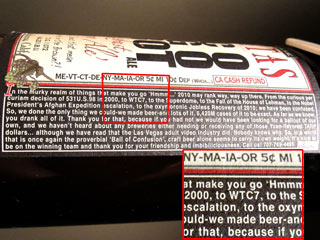 The full caption reads:
In the murky realm of things that make you go 'Hmmm…' 2010 may rank way, way up there. From the curious per curiam decision of 531U.S.98 in 2000, to WTC7, to the Superdome, to the Fall of the House of Lehman, to the Nobel President's Afghan Expedition escalation, to the oxymoronic Jobless Recovery of 2010; we have been confused. So, we done the only thing we could-we made beer–and lots of it. 6,420M cases of it to be exact. As far as we know, you drank all of it. Thank you for that, because if you had not we would have been looking for a bailout of our own, and we haven't heard of any breweries either needing or receiving any of those Yuan-flavored TARP dollars… although we have read that the Las Vegas adult video industry did. Nobody knows why. So, in a world that is once again the proverbial 'Ball of Confusion', craft beer alone seems to carry its own weight. It's nice to be on the winning team and thank you for your friendship and imbibiliciousness.
The list of "things that make you go hmmm…" is even supplemented with a poignant jab at how Troubled Asset Relief Program funds are, "Yuan-flavored," and a reference to what must have been Larry Flynt's request for stimulus funding for the adult entertainment industry that went unsatisfied despite the wording suggesting that money was paid. However, the fact that issues such as the curiosity of WTC7 are being disseminated via the unlikely medium of craft beer labeling is telling of both the increasing public awareness of these issues and the lack of honest reporting on such subjects—to the point of inspiring brewers to spread the message in their own way.
---
More Articles by We Are Change Minnesota
More: Featured Articles, MnChange Articles, Interviews and Videos