Nate Clark
We Are Change Minnesota
June 9th, 2008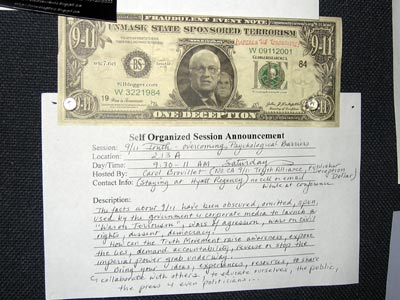 The issue of the cover-up and overwhelming media silence on the events of 9/11/2001 received modest attention at this year's National Conference for Media Reform despite exclusion from the official conference program. Thanks to Project Censored who provided literature and videos from their booth and the individual efforts of many others, the unanswered questions from 9/11 were well presented to a highly receptive audience of conference-goers—a majority of whom were already convinced of or at least familiar with the 9/11 cover-up.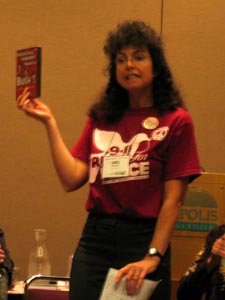 Deception Dollar publisher and congressional candidate for California's 14th district Carol Brouillet hosted an off-program poster session titled, "9/11 Truth – Overcoming Psychological Barriers" which was unfortunately missed by a majority of the 3,500-plus conference attendees. While others attended sessions on topics ranging from grassroots lobbying to the coverage of race and gender in the 2008 campaign, Carol's group discussed issues faced by the 9/11 truth movement from overcoming the trauma based programming of the public to the difficulty of challenging people's world-views when educating others about the "global war on terrorism" and other deceptions.
The group shared disappointment with the conference's lack of official attention to 9/11. "Why are the top people at this conference acting as gatekeepers?" questioned Kevin Barret of No Lies Radio. Peter Phillips and Mickey Huff from Project Censored suggested that the lack of coverage of 9/11 at the conference was evidence that the issue won't be uncovered from the top but rather through grassroots pressure. "This is media revolution. This is not media reform," Carol explained.
---
More Articles by We Are Change Minnesota
More: Featured Articles, MnChange Articles, Interviews and Videos